The Friends of Wollongong Botanic Garden work to foster interest in the Garden and support its future development.
Some of the projects the Friends have recently funded include:
Two Mobility Scooters in 2017
An annual Staff Scholarship Program, since 2016
Installation and ongoing management of Outdoor Reading Rooms
Electric Tour Vehicle in 2015
The extraction and transportation of rare and endangered palms from Queensland in 2014.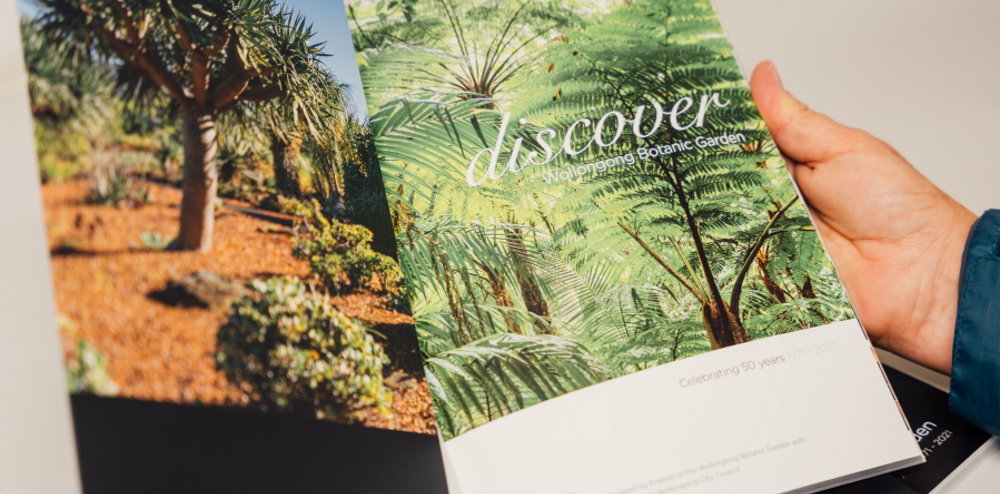 The Discover Wollongong Botanic Garden book was produced by the Friends of Wollongong Botanic Garden to celebrate the 50th anniversary of the Garden. With wonderful photographs throughout, it showcases the development of the Garden from its beginnings
in 1971 to the present.
Price: $25 (+$10 postage)
A range of stunning botanic artworks, prints, cards and photographs are also available for sale. Artworks showcase a range of our local native plants, including rare and endangered species, making them a beautiful and unique gift or memento.
All proceeds from sales go towards future Garden projects.
Email the Friends to request a purchase and
you will be sent payment instructions (Payment via direct deposit).
Volunteers from the Friends run regular events, including tours and guided walks, and support Garden Staff during our school holiday program and major events.
Behind the scenes, they help with things like research, archiving, plant propagation, and weeding.
The friends also raise funds through activities including monthly and seasonal plant sales.
Volunteers for research or archiving projects will generally need to have relevant experience. Training is provided for all other volunteering activities. All volunteers need to undertake relevant site and Workplace Health and Safety (WHS) inductions before taking part in any volunteer activity.
Note: this program is not suitable for transition to work placements. Please contact Volunteering Illawarra.
New members of all ages and backgrounds are always welcome. Becoming a Friend is a great way to get involved in the Garden, and join in our friendly social activities.
Friends also receive exclusive benefits to Botanic Garden events and activities.
Use the button below to join, call (02) 4225 9082, or come along to the next Friends meeting to find out more.
Membership fees and payment
Annual membership is $15 per person, or $25 for couples.
You can pay using the following methods.
Direct deposit: BSB: 032 695 (Westpac), Account number: 473 838. Please make sure you include your name as a reference when transferring payment.
Cheque: Payable to The Friends of Wollongong Botanic Garden, marked 'not negotiable'. You can post cheques to The Friends of Wollongong Botanic Garden, 61 Northfields Avenue, Keiraville NSW 2500.
In-person: Payment can be made in-person by cash or cheque at the Botanic Garden's administration office during business hours.
Upcoming Friends events
We don't have any Friends events planned right now.
Please check back soon, or see our calendar for other events.